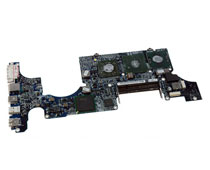 Welcome to our MacBook Pro Logic Board section. Here you'll find all the various MacBook Pro logic boards that are currently available.

We do our best to be your one stop shop for MacBook Pro replacements parts, offering extensive, on-the-shelf inventory of MacBook Pro logic boards.
Please browse around and find yourself a great deal. We do our best to offer the most complete online selection of MacBook Pro logic boards & other service parts. If you don't find the item that you are searching for don't hesitate to call us, a lot of times we can allocate logic boards that might not currently be listed on our web pages. If you have any question or need further assistance please call toll free 1.800.463.1322 during business hours 9:00am - 5:00pm PST Monday through Friday.
661-12902 Apple 2.3GHz 8-Core i9 Logic Board, 32GB, 1TB For MacBook Pro 15" 2019 A1990

$895.00

Elevate your MacBook Pro's performance with Apple's state-of-the-art logic board, tailored specifically for the 15" MacBook Pro 2019 model. At its heart is the powerful 2.3GHz 8-Core i9 processor, designed to handle intricate tasks, multi-threaded applications, and intensive computing needs with remarkable speed and efficiency. Coupled with a vast 1TB of storage, this logic board ensures that space limitations are a thing of the past.

Learn More